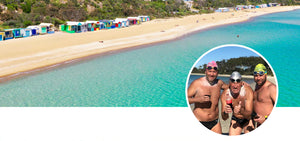 Meet swimmers from across Australia, explore some of the most beautiful swim spots on the famous Mornington Peninsula and be personally coached by Queen of the Channel, Chloë McCardel.

If you are training up for an English Channel solo or other marathon swim you can use these swimming and coaching experiences as an invaluable training preparation and 'dress rehearsal' for your future solo.

Your coach, Chloë, has coached over 150 swimmers from across the world to successfully swim the English Channel since 2014. She has organised and personally coached over hundreds of swimmers over 14x cold water swim camps in Victoria and New South Wales (Australia), San Francisco (USA) and Dorset (England).

Additional coaching provided by Peter Hendriks and the team at Swimwell. 

Includes:
12hrs of cold water swimming available over the 3 days. Swim as much or as little as you like in skins or with a wetsuit
Chloë McCardel as your personal coach
(ideal for those training for future marathon solos & relays)

Practice & Receive feedback from Chloë on these swim skills:

Swimming next to a large moving support boat during the day 
'Feeding' next to a large boat
Changing 'gears'
Swimming against the tide
Stroke technique
Swim pace
Stroke rate
'Feeding' technique
Advice from Chloë on these topics:
Feeding
Distance training
Cold water training
Night swimming
Training up your support crew